Ótimo artigo do professor
Bruce Schneier,
especialista em segurança digital e professor da Universidade de Harvard, sobre o Blockchain:
[...]
Much has been written about
blockchains
and how they displace, reshape, or eliminate trust. But when you analyze both blockchain and trust, you quickly realize that there is much more hype than value. Blockchain solutions are often much worse than what they replace.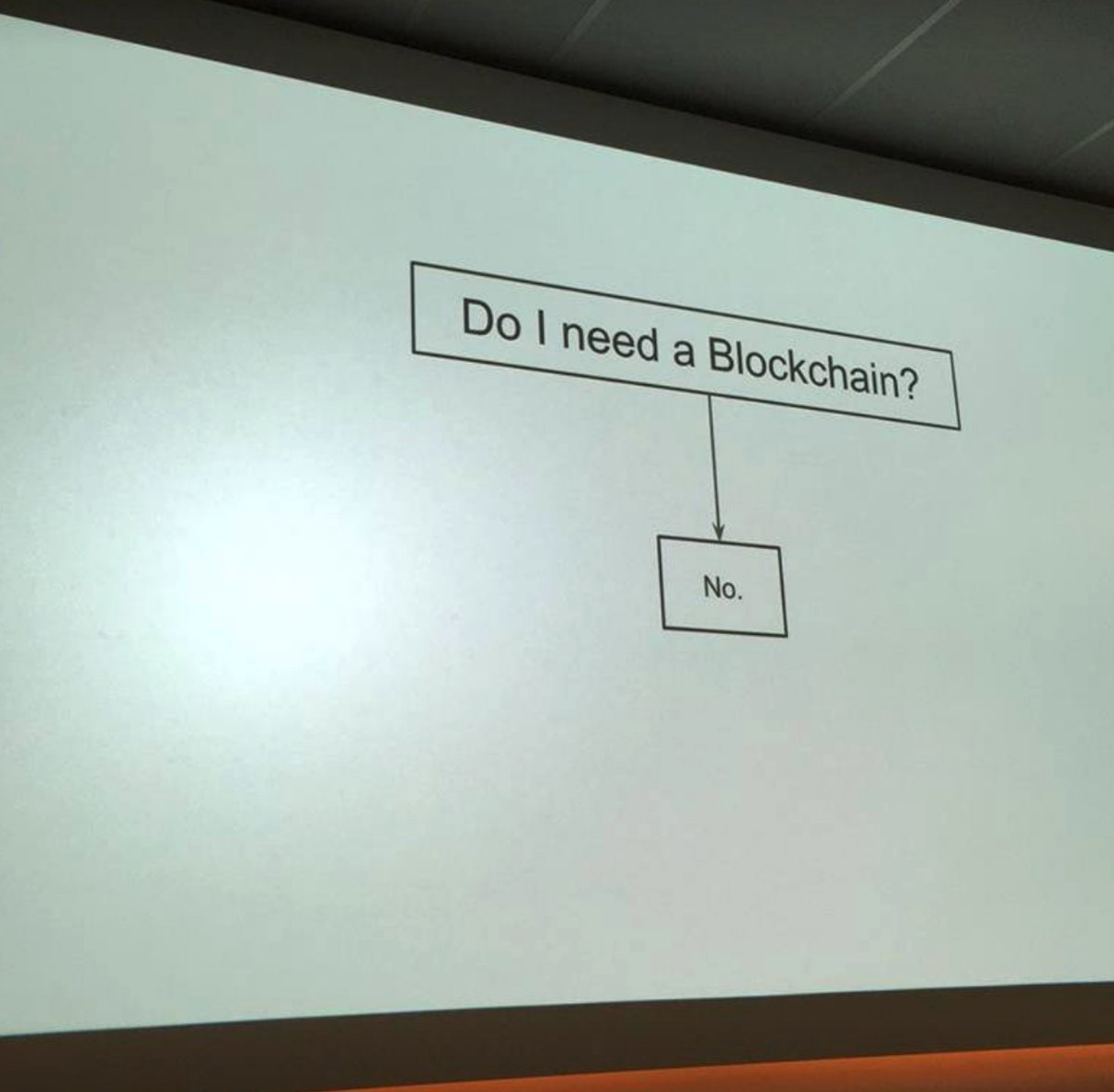 [...]
What blockchain does is
shift some of the trust
in people and institutions to trust in technology. You need to trust the cryptography, the protocols, the software, the computers and the network. And you need to trust them absolutely, because they're often single points of failure.
When that trust turns out to be misplaced, there is no recourse. If your bitcoin exchange
gets hacked
, you lose all of your money. If your bitcoin wallet
gets hacked
, you lose all of your money. If you forget your login credentials, you lose all of your money. If there's a
bug in the code
of your smart contract, you lose all of your money. If someone successfully
hacks the blockchain security
, you lose all of your money. In many ways, trusting technology is harder than trusting people. Would you rather trust a human legal system or the details of some computer code you don't have the expertise to audit?
Blockchain enthusiasts point to more traditional forms of trust—bank processing fees, for example—as expensive. But blockchain trust is also costly;
the cost is just hidden
. For bitcoin, that's the cost of the additional bitcoin mined, the transaction fees, and the enormous environmental waste.
Blockchain doesn't eliminate the need to trust human institutions. There will always be a big gap that can't be addressed by technology alone. People still need to be in charge, and there is always a need for governance outside the system. This is obvious in the ongoing debate about
changing the bitcoin block size
, or in
fixing the DAO attack
against
Ethereum
. There's always a need to override the rules, and there's always a need for the ability to make permanent rules changes. As long as hard forks are a possibility—that's when the people in charge of a blockchain step outside the system to change it—people will need to be in charge.
Any blockchain system will have to coexist with other, more conventional systems. Modern banking, for example, is designed to be reversible. Bitcoin is not. That makes it hard to make the two compatible, and the result is often an insecurity. Steve Wozniak was
scammed out of $70K
in bitcoin because he forgot this.
[..]
These issues are not bugs in current blockchain applications, they're inherent in how blockchain works. Any evaluation of the security of the system has to take the whole socio-technical system into account. Too many blockchain enthusiasts focus on the technology and ignore the rest.
To the extent that people don't use bitcoin, it's because they don't trust bitcoin. That has nothing to do with the cryptography or the protocols. In fact, a system where you can lose your life savings if you forget your key or download a piece of malware is not particularly trustworthy. No amount of explaining how SHA-256 works to prevent
double-spending
will fix that.
Similarly, to the extent that people do use blockchains, it is because they trust them. People either own bitcoin or not based on reputation; that's true even for speculators who own bitcoin simply because they think it will make them rich quickly. People choose a wallet for their cryptocurrency, and an exchange for their transactions, based on reputation. We even evaluate and trust the cryptography that underpins blockchains based on the algorithms' reputation.
To see how this can fail, look at the various
supply-chain security systems
that are using blockchain. A blockchain isn't a necessary feature of any of them. The reasons they're successful is that everyone has a single software platform to enter their data in. Even though the blockchain systems are built on distributed trust, people don't necessarily accept that. For example, some companies
don't trust the IBM/Maersk system
because it's not their blockchain.
Irrational? Maybe, but that's how trust works. It can't be replaced by algorithms and protocols. It's much more social than that.
Still, the idea that blockchains can somehow eliminate the need for trust persists. Recently, I received an email from a company that implemented secure messaging using blockchain. It said, in part: "Using the blockchain, as we have done, has eliminated the need for Trust." This sentiment suggests the writer misunderstands both what blockchain does and how trust works.
Do you need a public blockchain? The answer is almost certainly
no
. A blockchain probably doesn't solve the security problems you think it solves. The security problems it solves are probably not the ones you have. (Manipulating audit data is probably not your major security risk.) A false trust in blockchain can itself be a security risk. The inefficiencies, especially in scaling, are probably not worth it. I have looked at many blockchain
applications
, and all of them could achieve the same security properties without using a blockchain—of course, then they wouldn't have the cool name.
Honestly, cryptocurrencies are useless. They're only used by speculators looking for quick riches, people who don't like government-backed currencies, and criminals who want a black-market way to exchange money.
To answer the question of whether the blockchain is needed, ask yourself: Does the blockchain change the system of trust in any meaningful way, or just shift it around? Does it just try to replace trust with verification? Does it strengthen existing trust relationships, or try to go against them? How can trust be abused in the new system, and is this better or worse than the potential abuses in the old system? And lastly: What would your system look like if you didn't use blockchain at all?
If you ask yourself those questions, it's likely you'll choose solutions that don't use public blockchain. And that'll be a good thing—especially when the hype dissipates.